School Made Simple™ was founded in 1984 by Dr. Edwin C. Myers. Dr. Myers and his wife, Nellie, have devel­oped and expanded our product line over the years. Our brief, potent drills are so effective that they're called Learning Vitamins™! Ed and Nellie are the grateful parents of twelve home schooled children.

Ed Myers holds the Ph.D. from Carnegie-Mellon University, and the M.A. from Dallas Seminary. A scientist, educator, and musician, Ed designed the optics of the infra­red spectro­meters for NASA's Voyager I and II space probes. He has taught at the university level and per­formed geo­phys­ical research in the petro­leum industry. He has served in elected office as county commissioner, and has taught university level math and science courses at several colleges over the last 45 years. Ed has also authored numerous choral pieces and directed church, festival, community choirs.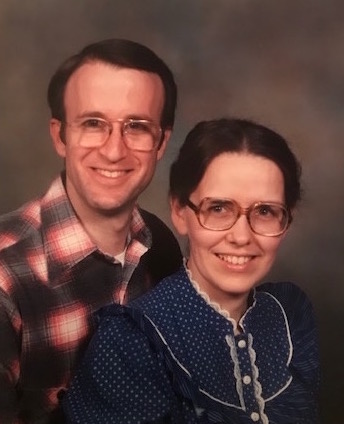 Ed's wife, Nellie, is a Fine Arts graduate of Emporia State University. Her illustrations have appeared in Teens, The Lamp Post, Young Ambassador, The Dallas Times Herald, and throughout the Learning Vitamins drills. Nellie currently serves as the KS Education Director of the Family Alliance for Christian Temperance. She was happy to be a stay-at-home mom. Now that her kids are grown, her favorite pastime is babysitting the grandkids!

Ed and Nellie and family, including married daughter, son-in-law and two grandkids.
| | |
| --- | --- |
| Write to us at: | Email us right now! |
| | |