Our Learning Vitamins Drills
are available in hard-copy print, accompanied by our very own invention — the SuperSlate!
You can take it anywhere,
and use your drill sheets again and again!
Here's how it works...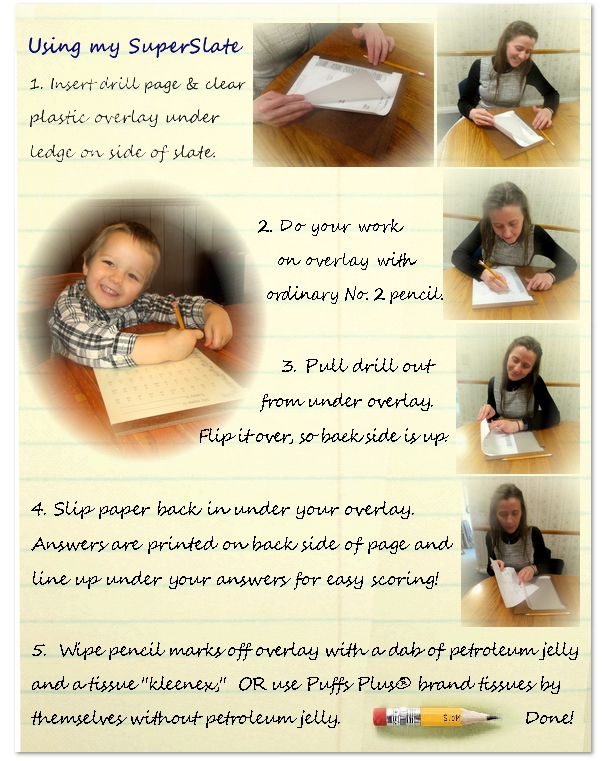 We offer the SuperSlates accompanied by the hard-copy masters of the drills contained in CalcuLadder units 1-6. Addtionally, we offer the MasterPak 1 (masters of CalcuLadders 1-3 and ReadyWriter) and MasterPak 2 (masters of CalcuLadders 4-6 and AlphaBetter). We strongly recommend that you order a SuperSlate for each child using the drills. For example, if you order a MasterPak 1 (which includes just one slate), but plan to use it with 4 children, then order 3 additional slates to go along with it. You can find these products on our Order Page, about half-way down.
The SuperSlates are hand-crafted in the USA.Three transparent plastic overlays are included with each SuperSlate. Additional packets of overlays can be purchased separately on our order page as well!
Note: our printed drills and slates are shipped to U.S. addresses only. To have our printed drills with SuperSlates shipped internationally, please order them through Rainbow Resource Center.


We also have a limited supply of slates made made with our previous design, also excellent quality. You can find them on our order page at a reduced price. Look for the item "Reduced Price Slates" on our order page. Here's how they work...
1. Insert drill worksheet into your SuperSlate.
Two transparent plastic overlays are included with each SuperSlate!
2. Attach overlay.
Tabs snap tight for easy assembly!
3. Do your work on the overlay.
An ordinary No. 2 pencil is all you need!
4. Flip drill sheet over to show answers.
Answers line up next to yours for easy scoring!
5. Clean overlay.
Spread a dab of petroleum jelly around, and the pencil marks will wipe right off with a dry cloth or tissue.